Are you looking to buy a tent? Confident just because of the different types of camping tents available in the market? You don't need to worry anymore. This article is entirely dedicated to you. Below, we have a detailed guide on different types of camping tents. We have briefly discussed each tent type you will find in the market.
Each tent type is specially designed for some dedicated camping environment, usability, and weather conditions. You need to look for the right type of tent according to your actual requirements. We have briefly described the advantages and disadvantages of each tent type. By the end, you will be going to have a clear concept about the right tent type for you.
Based on Shapes
Based on the shapes, there are several different types of tents, you will find in the market. So, let's begin with dome-shaped tents…
Dome Shaped Tents
This category of the tent is very popular and most commonly seen on any camping ground. Two flexible poles cross at the top of the dome. Both poles are bend to be anchored to the floor on each of the four dome corners. Campers have to set up the rainfly over the tent using an inner tent clipped to the underside of the poles.
The great advantage of the dome-shaped tent is its aerodynamic structure. These tents perform very well in heavy wind conditions. Still, you will need to make sure that your tent is correctly staked.
In some dome-shaped tents, a rainfly over the tent creates a porch space. When looking for dome-shaped tents in the market, you will find that these tents are available from two-person capacity to up to eight-person capacity.
Another reason why campers prefer dome tents is that they are easy to set up and takedown. Kindly note that the tent height decreases when you move from the center to the sides. Still, it is recommended if you need a large size tent then prefer a cabin-style or a tunnel tent over a dome-style tent. Check out the Coleman Evanston 8 person dome tent review here.
Geodesic or Extended Dome-Shaped Tents
Geodesic tents are extended dome-style tents. These tents have more poles than a typical dome tent. These tents are also known as improved version or a level up of dome tents. The Geodesic tents are quite expensive than other tents because of their stability and strength. These tents have more number of poles. Extra poles in a tent structure will not only improve its strength but also make it tauter against several weather elements.
Hence, if you are planning to camp in more wilderness or extreme weather conditions, then you can take a look at Geodesic tents. There are dozens of extended dome tents available in the market but a few models only available for large groups or families.
However, more poles in a tent mean installing the tent will take more time, and it may become very complicated for a beginner. Therefore, if you have purchased a new Geodesic tent, then we recommend practicing the tent set up at least once at home. This will help you to remember the poles connection for faster setup.
Tunnel Shaped Tents
The tunnel-shaped tents are the best option when it comes to family or a large group camping. There are a series of flexible poles that loop from one side of the tent to the other. Resulting, it forms a tunnel shape.
You can also attach the rainfly over it in the same manner. The interior of these tents is very spacious, and they also offer good headroom space inside. For stability, tunnel tents rely on the included guylines. Pitching tunnel tents takes some time, and they need to be correctly staked to the ground for proper stability.
Still, the amount of headroom, spacious interior, and level of comfort these tents offer is entirely worth it. There are a good number of value for money tunnel tents available in the market for family camping purpose. As we said, if these tents are properly staked, then they can perfectly withstand several weather conditions. As per our experience, we found that rainwater pools on the top of the rainfly between the tent poles, which is a drawback here.
A-Frame (Ridge) Shaped Tents
A ridge tent includes a comprised thick canvas fabric stretched over a horizontal pole. A vertical pole supports this pole at each end. The structure and design are very simple that if you ask a kid to draw a tent, then he/she will most probably draw a ridge tent. These tents are also relatively easy and simple to setup. Due to their shape, these tents perform well in rainy conditions. Guylines and tie-touts play a vital role in the overall stability of the tent.
Nowadays, ridge tents use lightweight aluminum poles, and their outer fly sheets are made from waterproof nylon or polyester fabric. A-frame tents that are available in the market will perfectly suit up to two people. Hence, if you need a big tent for family camping, then you can look for other options. Another disadvantage of ridge tents is that they do not offer good headroom space due to their A-frame shape.
Cabin Shaped Tents
If you are looking for a large family tent which is inexpensive and durable, then cabin shaped tents will be the best category for you. These tents look like a big-box structure and usually includes corner poles and roof poles.
The roof poles are emerged at the center, forming a giant spider-like structure. Even pitching these tents is as simple as opening an umbrella. There are dozens of fast instant setup mechanism tent models available from reputable brands like Core and Coleman.
These tents usually have the entire ceiling with mesh for exhaling warm air outside the tent and enjoying stargazing at night.
Cabin shaped tents are unbeatable in terms of proper air circulation. Typically, they have a good number of windows on all sides of the tent, and some tents also have several air-intake vents on the floor. You have to pitch the rainfly over the tent. Mostly, these tents are freestanding structures. You can easily pitch them even on uneven grounds, and they can be easily moved like a box after the setup.
Still, we recommend using the included guylines and ropes to stake your tent to the ground properly. This not only enhances its stability but also makes it taut against the weather. For family camping in fair weather, cabin tents are the best options.
Pyramid Shaped Tents
The pyramid-shaped tents are well-known for their simple setup. Typically, they include a single pole that is pitched in the center and a rainfly that draped over the top to the staked down at the corners.
Guylines and stakes will play a very important role in keeping the tent stable and rigid against several weather conditions. The bigger the size of the pyramid tent, the more it will difficult to keep it steady.
Nowadays, most modern pyramid-shaped tents are bordering on tarp-like setups. These tents available in the market are lightweight. The main drawback of a pyramid tent is the lack of good headroom and storage space. The absence of side walls mainly leads to the lack of space inside the tent.
Still, if you need a tent that has a more traditional look and an easy setup, then you can prefer investing in a pyramid-shaped tent. We also recommend reading customer reviews online before buying so that you will get an idea of how the tent is performing practically.
Tipi Tents
When it comes to luxury camping lovers, experienced campers prefer tipi tents. These tents are most like pyramid tents, but there is a big difference between them. Tipi tents include separate poles for the door. The door needs to separately pitch and well-staked.
Apart from that, most of the four-season tipi tents come with a port for wood stove fuel pipe. Hence, you can insert a wood stove inside the tent and get proper warmth or cook inside. The stability of tent structure is well-dependent on the included guylines and stakes.
The tipi tents are available in several models from two-person to ten-person capacity. For proper ventilation, tipi tents include air vents on the roof. The material used in the pole and material fabric both are heavy-duty. Usually, these tents are heavy-weight, but some modern tent models are lightweight. A well-staked tipi tent also stays rigid and taut in several weather conditions. Some tipi tents are also available at a reasonable price in the market.
Bell Tents
Bell tents are among the first for those who love camping in a cold environment or winters. Bell tents are usually made of 100% cotton-canvas fabric. This fabric is breathable. Hence, no condensation issues on tent walls. Bell tents are also considered among the category of four-season or all-season tents.
These tents perfectly hold the warmth in winter conditions and keep the tent cool and well-ventilated in a hot summer environment. Bell tents usually have a thick center pole which is made up of very durable material. It also has a rainfly over the top and sidewalls.
The cotton canvas is a heavy fabric and becomes bulky when packed. Therefore, Bell tents are usually considered for car camping. The side walls have windows with mesh and zippered panels. Some bell tent models also have air vents on the roof. Another great advantage of bell tents is the removable zipper floor.
The heavy-duty floor can be removed, and a canopy structure can be obtained. Not only extreme weather camping, but you can also use them as canopy structures in gatherings and family functions in the garden. Because of its benefits and advantages features, bell tents are also quite expensive. Check out the best heavy-duty canvas camping tents here.
Special Tents for Occasions
Some types of tents also exist that are perfectly designed for some special occasions. These are beach tents, canopy tents, and rooftop tents.
Beach Tent
Suppose you love to spend your whole day on the beach. You love the sound of waves and sleeping in the vibe of sand then you must invest in a beach tent. This tent comes with UV protection, and you don't need to apply sunscreen again and again—no sunburns when you are in the shelter of a beach tent. Typically, beach tents also come with their built-in floor.
These tents are easy to set up and usually have something like a half dome or extended dome (geodesic) shape. These tents also come with windows. Windows also include mesh panels if you want to make your day on the beach comfortable then buying a beach tent completely worth it.
Roof Top Tents
Those who are road-tripping enthusiasts can go for rooftop tents. You get a cabin-style (most probably) tent on the roof of your car. Most of the cars that come with roof bars can easily handle a tent full of campers.
These rooftop tents are very easy to set up and take down. Make sure that you have an access ladder with the tent or you need to purchase it separately.
These rooftop tents also come with a rainfly over them. These tents also have a convenient door for easy entrance and several windows with mesh panels. Why about the tent capacity?
Rooftop tents usually offer one person to four-person capacity. There are a good number of rooftop tents available out there.
Canopy Tents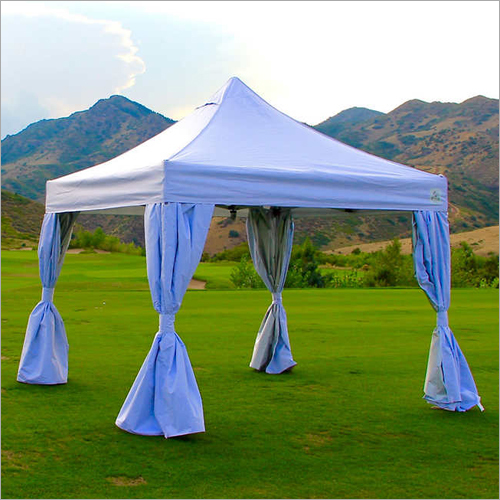 If you are looking for a tent that can provide you with instant shelter from rain and wind, then canopy tents are a good option for you. These tents are relatively lightweight and easy to pitch.
The shape of a canopy tent can be a dome or cabin. These tents come with taking off side panels so that you can easily remove them whenever required.
A canopy tent is best for camping in hot summers when you need good air circulation. The fabric materials used in the canopy tents are waterproof and heavy-duty.
These canopy tents can also be considered by backpackers exploring the world. Sometimes, backpackers need shelter for a night. In this case, canopy tents stand as an excellent affordable buying option. Check out the best canopy reviews for wind and rain here.
Conclusion
Based on the usability, camping environment, and occasions, there are several types of tents available in the market. The above article is a detailed explanation of different kinds of camping tents available in the market. So, which tent type you liked the most? If you have any doubts or queries, then you can ask in the comments section below. Keep reading for more tips on camping and backpacking trips.